Interactive Economic Development Map is located HERE
The State of Mississippi has a variety of ways to assist businesses in, or relocating to, the Brookhaven-Lincoln County area. Details on this assistance is located here.
DEMOGRAPHIC information for our area is located here.
A few examples of properties located in the area are:
In addition, we have a new, 400 acre business park:
Linbrook Business Park (Brookhaven)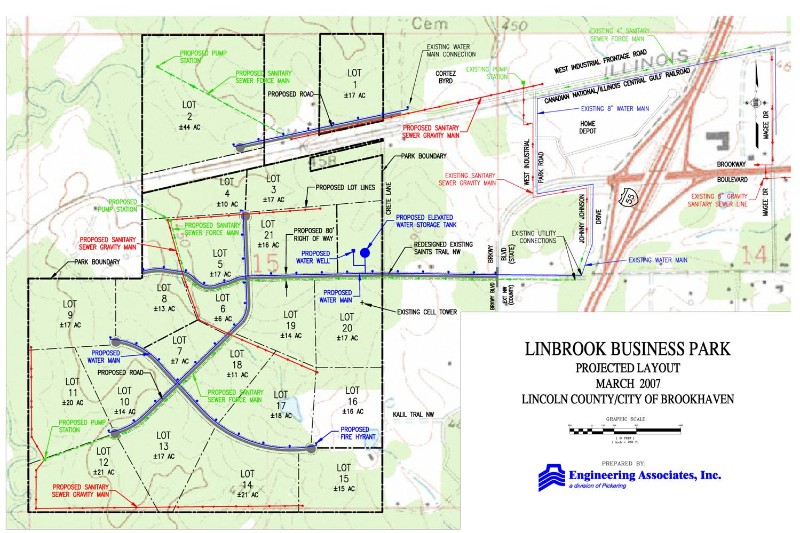 Address:
Brookway Extension Brookhaven , MS 39601 (Lincoln County)
Property and Area Description:
Property located immediately off Interstate 55. Rail access is available via Canadian National RR. All acreage is totally owned by the Brookhaven Lincoln Economic Development Alliance and is available for sale now. A 1 million gallon water tower with deep well are in place, with some 8,000 feet of new roads, water and sewer lines, as well as fiber optics.
Site Details:
Available Acres: 400
Topography: gently rolling
Zoning: Industrial-Light

Transportation:
Nearest Interstate: Interstate 55 Distance (miles): 0.5
Nearest 4-Lane Highway: U.S. Hwy 84 Distance (miles): 4
Nearest Commercial Airport: Jackson International Distance (miles): 55
Rail Served:Yes
Utilities:

Adjacent Available Acres: 640
Setting: Industrial Park Within City Limits: Yes
Offering:
Sale Price: Negotiable
Electric Distribution: South West E.P.A.
Natural Gas Distribution: Centerpoint Energy
Water: City of Brookhaven
Sewer: To be installed 2007
Local Telecommunications Service: Bellsouth